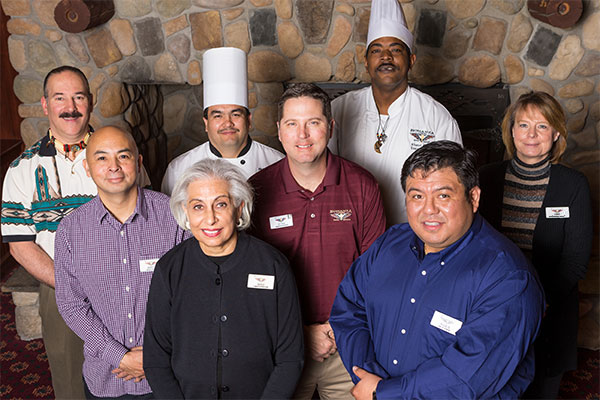 Thank you for your interest in employment with the Bonanza Casino. We are a 'locals' casino that has been continuously in business for over 40 years. Over 40% of our staff have been employed at least 5 years and several have been with us 20+ years.
Do you like to have fun? Is Guest Service your top priority when working? Would you like to work for a company that really cares for its employees and guests?
Then you need to become a Scout in our Fort Reno Cavalry!
Not everybody has what it takes to be a Bonanza employee and only Bonanza employees can be a Cavalry Scout! Interested? Then take a look at our current openings and give Bevin a call.
---
Employee Benefits
We are proud to be an equal opportunity employer and offer a drug free workplace.
The Bonanza Casino offers these great employee benefits:
| | | |
| --- | --- | --- |
| Medical Coverage | Vacation / PTO | Employee Meal Credit |
| Dental | Employee Events | Free Employee Parking |
| Vision | Discounts for products and services | Scout Merit points! |
---
Apply for Employment
Location

Office Hours

Phone Number

Email

4720 N. Virginia St.
Reno, NV 89506
M-F, 9AM – 5PM
775-329-2755
beagle@bonanzacasino.com
*We require pre-employment drug testing
---
Current Openings
Dishwasher
This position will be doing heavy duty cleaning in the kitchen areas. Please apply in person at the H.R. Office.
---
Steakhouse Cook
Prior steakhouse cook experience required.
---
Handyman
This position works in the Maintenance Department assisting with multiple maintenance and repairs throughout the property. Prior general maintenance experience is needed, along with the ability to utilize tools such as ladders and pallet jacks.
---
Busser
The Bonanza Casino is looking for full and part time bussers to work in our Branding Iron Café and Cactus Creek Steak House.
---
Security Officer
The Bonanza Casino is looking for guest-service oriented individuals to join our Security Team. If you possess the following, we would like to speak with you: • Ability to work independently, while following established protocol and procedures • Good written communication skills (English), including correct spelling and punctuation • Computer skills using Microsoft Word and Excel (enter data on spreadsheets) • Ability to prioritize and problem-solve in stressful situations • Excellent verbal communication skills Prior security or related experience is preferred.
---
Restaurant Cashier
This position is the first impression of our restaurant. They greet and seat guests, assist servers when needed and close out all transactions through the register. Please apply in person at the H.R. Office.
---
Porter
Perform any combination of tasks to maintain cleanliness of casino. Typical duties include cleaning all surfaces and mop/vacuum casino and restrooms, empty trash and ash trays. Please apply in person at the H.R. Office.
---
Restaurant Supervisor
Bonanza Casino is looking for an experienced professional to supervise the front of house restaurant staff. This position will oversee serving staff and hostess/cashier as well as greet guests and ensure an inviting and quality dining experience. Interested parties please send salary requirements along with resume.
---
Surveillance Observer
We are looking for experienced Surveillance Observers (1+ yr exp). Both part time and full time positions available. This position works with camera surveillance equipment observing activity to ensure compliance of policies, procedures and public safety. Works closely with Security by radio to address issues observed in the casino, and creates follow up written reports. Strong computer and written communication skills are required.
---
Shipping/Receiving Clerk
This position assists the Shipping and Receiving Manager by receiving daily orders, stocking and delivery of product to other departments. This position will also assist the Facility Manager working on special projects and general maintenance repairs. Please apply in person at the H.R. office Monday through Friday 9:00 – 4:00
---
Gift Shop Sales Clerk
We have an opening in our Gift Shop for a part time sales clerk. Please apply in person through the H.R. Office, Monday through Friday from 9:00am – 4:00 PM
---
Fort Reno Host
We have an opening for a casino host in our Fort Reno Players' Club. Please apply in person through the H.R. Office, Monday through Friday from 9:00am – 4:00 PM
---
Cage Cashier
Casino cage cashier. Previous cash handling experience required. Please apply in person through the H.R. Office, Monday through Friday from 9:00am – 4:00 PM